Refrigerant : R-1234ze
Compressor : screw fixed-speed
Nominal cooling capacity : 200-1 200 kW
The AquaForceTM 30XBZE and 30XBPZE liquid chillers are the economic solution for commercial and industrial applications where high reliability and economic operation in all climate conditions are key customer requirements.
Very economical operation
Low sound levels
Simple installation
Environmentally responsible
Exceptional reliability
The range is available in 2 efficiency levels:
30XBZE standard unit with variable-speed AC fan motors (option 17) – offers an economical solution to enhance seasonal energy efficiency levels. 30XBZE version with Eurovent energy efficiency class A, B, and SEER 12/7°C up to 4.4 with option 17 in accordance with EN14825
30XBPZE premium unit – equipped with EC fans and additional heat exchange surface to imrove both the full load and part load energy efficiency. 30XBPZE version with Eurovent energy efficiency class A, and SEER 12/7°C up to 4.6 in accordance with EN14825
Very economical operation
Twin-rotor screw compressor equipped with a high-efficiency motor and a variable capacity valve that permits exact matching of the cooling capacity to the load
Novation® aluminium condenser with high-efficiency microchannels
Flooded shell-and-tube evaporator with new generation of cooler tubes to reduce exchanger pressure drops, especially in applications with high percentage of glycol
Electronic expansion device permitting operation at a lower condensing pressure and improved utilisation of the evaporator heat exchange surface (superheat control)
Economiser system with electronic expansion device for increased cooling capacity
Low operating sound levels
Discharge dampers integrated in the oil separator (Carrier patent)
Silencer on the economiser return line
Compressor and oil separator acoustic enclosure, reducing radiated noise (option)
Condenser coils in wide angle V configuration, allowing quieter air flow across the coil
Low-noise 6th generation Flying Bird™ fans, made of a composite material (Carrier patent), are now even quieter and do not generate intrusive low-frequency noise
Inverter driven EC fans on 30XBPZE version eliminate start stop noise during part load operation
Rigid fan mounting preventing start-up noise (Carrier patent)
Simple installation.
Integrated hydraulic module (option)
Simplified electrical connections
Fast commissioning
Environmental responsibility
R-1234ze refrigerant
40% reduction in the refrigerant charge through the use of micro-channel heat exchangers
Leak-tight refrigerant circuit
Exceptional reliability
Industrial-type screw compressors with oversize bearings and motor cooled by suction gas
Easily accessible compressor components minimising downtime
Novation® aluminium micro-channel heat exchangers (MCHE) with high corrosion resistance
Thermal insulation with aluminium sheet finish (option) on evaporator, for improved resistance to mechanical and UV damage
Auto-adaptive control
Exceptional endurance tests
06T twin-rotor screw compressor
Equipped with bearings with oversized rollers, oil pressure lubricated for reliable and durable operation, even at maximum load
Optimal adjustment of the compressor cooling capacity
If a fault occurs, the compressor does not switch off, but continues operation with a reduced capacity (unloaded mode)
The silencer in the discharge line considerably reduces discharge gas pulsations for much quieter operation
Condenser includes an oil separator that minimises the amount of oil in circulation in the refrigerant circuit and redirects it to the compressor function
30XBZE
SEER LT 12/7 up to 4,4
SEPR HT 12/7 up to 4,5 and SEPR MT -2/-8 up to 3,7
30XBPZE
SEER LT 12/7 up to 4,5
SEPR HT 12/7 up to 6,3 and SEPR MT -2/-8 up to 4,1
Smart view control
Intuitive and user-friendly, coloured, 7″ interface
10 languages available
Easy access to the controller box
Password protection
Night-mode
Energy management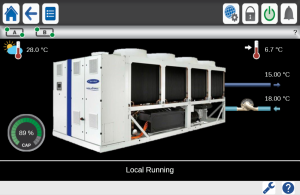 Remote management as standard
Easily accessed from the internet
Multiple remote control, monitoring and diagnostic possibilities
Optional communication gateways
Start/Stop of the machine
Dual set-point management
Water pump control
Remote management (EMM option)
Extended remote control possibilities: room temperature, set-point reset, etc.
Low and high pressure pumps up to size 400
Low noise, very low noise
Low brine or very low brine operation
Total heat recovery
Side enclosure panels and grilles
IP 54 control box
Low inrush current
Compressor enclosure
Evaporator and pumps aluminium jacket
Enviro-shieldTM & Super Enviro-shieldTM MCHE coatings
Service valves
BACnet, JBus and Lon communication interfaces
Wireless connectivity