AquaSnap® – Air-cooled scroll chiller
Refrigerant : R-32
Compressor : scroll fixed-speed
Nominal cooling capacity : 170-940 kW
AquaSnap liquid chillers are the best solution for commercial and industrial applications where installers, engineering and design departments and building owners require reduced installation costs, optimal performance and the highest quality.
High full-load and part-load efficiency
Compact and simple to install
Low sound level
Low CO2 environmental foot print impact
Superior reliability
The AquaSnap liquid chillers feature two versions:
The AquaSnap 30RB- features a compact all-in-one package optimised for full-load applications where reduced investment cost si required. For cold or hot climates, the AquaSnap can be equipped with specific options to operate from -0°C up to +48°C.
The AquaSnap Greenspeed® 30RBP is a compact all-in-one package optimised for part-load applications where high SEER, SEPR and IPLV are required. Additionally, the low sound levels achieved under part-load conditions can be very beneficial for sensitive acoustic applications. The AquaSnap Greenspeed® operates from -20°C up to 48°C as standard.
SmartVu™ control
Energy management configuration
Night mode
Easy and high-speed comunication technology over Ethernet (IP) to a centralised building management system
F-gas regulation leak check reminder alert
4.3-inch SmartVu™ user interface:

Intuitive and user-friendly 4.3 inch touch screen interface
Concise and clear information available in local languages
Information on Energy produce and consume, instantaneous & integrate values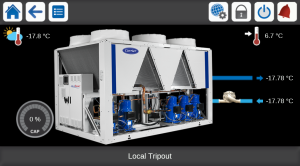 Remote management (standard)
Easily accessed from the internet
Multiple remote control, monitoring and diagnostic possibilities
Start/Stop of the machine
Dual set-point management
User safety
Heat reclaim (option)
Operation indication
Alert indication
Alarm indication
Energy management module (optional)
Room temperature
Set-point reset
Demand limit
User safety
Ice storage end
Timer override
Out of service
Chiller capacity
Alert indication
Boiler control
Very economical operation
High unit full- and part-load energy efficiency and efficient design of the water side
Specific control functions to reduce unit cooling energy use during occupied and unoccupied periods
Greenspeed® variable-speed pump to reduce pumping energy consumption by up to two-thirds (option recommended by Carrier)
Extra energy savings through multiple options: direct expansion free-cooling without glycol on one or two refrigerating circuits, partial heat recovery
Reduced maintenance costs
Low sound level
Condenser with fixed-speed fans (30RB- models)
Condenser with Greenspeed® low noise variable-speed fans (30RBP models for even quieter operation)
Low noise 6th generation Flying Bird fans, made of composite material
Specific control functions or features to reduce noise level during the night or unoccupied periods
Quick and easy installation
Compact design
Integrated hydronic module (optional)
Built-in hydraulic module with Greenspeed® variable-speed pump (option recommended by Carrier)
Simplified electrical connections
Fast unit commissioning
Reduced installation costs
Optional Greenspeed® variable-speed pump with hydraulic module (option recommended by Carrier)
No buffer tank required
Environmentally responsible
R-32 non-ozone depleting refrigerant
Reduced direct warming potential:

Low R-32 refrigerant charge
Lower R-32 GWP (675)

Leak-tight refrigerant circuit with minimum brazed connections

Reduced unit energy use (high full- and part-load efficiency)

Pumping energy consumption can be reduced by up to 2/3 using Greenspeed® variable-speed pumps
Superior reliability
State-of-the-art concept
Auto-adaptive control
Exceptional endurance tests
Novation® aluminium micro-channel heat exchangers
Novation® microchannel coils technology
Extra-resistant aluminium alloy
Corrosion resistance
Can be used in moderate marine and urban environments
Approximately 10% more efficient than a traditional coil
40% reduction in the amount of refrigerant used in the chiller
Reduces air pressure losses by 50%
Can be cleaned very quickly
Coils corrosion protection
Medium or low temperature brine solution
Partial heat recovery
Very low noise level
Unit with ductable fans
Protection grilles
Hydraulic module with choice of pump
Water buffer tank module
Expansion tank
Frost protection
Lon, J-Bus or BacNet gateway
Master/slave operation
Free Cooling dry cooler management
Soft starter
230V electrical plug
Compliance with Russian regulations
Welded exchangers connection kit