The Carrier AquaForce® water-cooled chiller with Greenspeed™ intelligence won the Air Conditioning Product of the Year award during the UK National Air Conditioning Awards 2014 organized by ACR Today, a leading British publication for the air conditioning and refrigeration industries.
An independent panel of judges recognised Carrier's innovative technology in the design of the unit, commenting that it was a "neat package with time proven technology".
The chiller, manufactured in Montluel, France, is part of a cutting edge series of water-cooled liquid chillers developed to deliver high performance and optimal energy consumption in demanding industrial and commercial environments.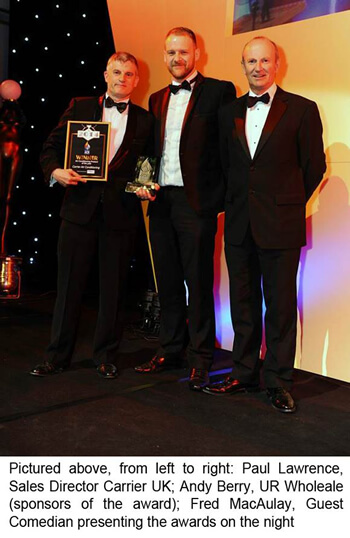 By incorporating a combination of variable speed drives with screw compressors ("Greenspeed intelligence") to maximise energy efficiency, and benefiting from the inherent stability and wide operating range of positive displacement compression, this particular AquaForce chiller can be configured for both cooling and heating applications, with hot water temperatures of up to 50°C.
The streamlined Touch Pilot control is used as part of a new generation of Carrier product-integrated controls boasting a user-friendly, color touchscreen interface with enhanced web capability and easy access to all unit parameters from a single screen display.
"This award rightly recognizes our industry-leading innovation and expertise in bringing energy-efficient and high performance solutions to our customers throughout the UK," commented Paul Lawrence, director, sales and business development, Carrier UK. "It provides us with a unique opportunity to recognise the company-wide talent and outstanding research and development efforts that go into all Carrier products."